Today I wanted to welcome Wedding World Bridal in Edmonton, AB to the ever-growing list of Admire Studios partner businesses! Wedding World is even more special than most, because I've accepted a job working with them as a Bridal Consultant, which involves me helping engaged ladies choose their bridal wear during the fall and winter season. They've graciously allowed me to showcase my custom invitation line as well as promote my photographic packages, which has been a great experience so far. I've only been here a few weeks, but it's just great to help ladies find THE DRESS.
When I got married, I didn't even go into a bridal store once. First off, I wanted a red dress, so that's not really a bridal store's forte. But the real reason I never even went in when I had the excuse to try on pretty dresses was bad experiences, and a reputation in my city for plus size brides having even worse experiences. After a truly awful experience in one of the boutique bridal stores in Saskatoon where I grew up when I came in to attempt a bridesmaid gown for a friend's wedding, and having heard tales of worse, I made the decision to have my dress made for me and designed it myself (not for everyone, but it was a dream come true for me.) But if tales of Wedding World had reached my ears, I might have at least gone in to take advantage of my shiny diamond ring status. The reason? I've liked clothes, dresses, and fashion ever since I got out of tomboy stage as a kid, and this place appeals to me in a lot of ways – not the least of which that there are dresses here I could actually try on.
So working at Wedding World these past few weeks has been a good experience – for one thing to see the amount of choices for plus size brides (especially compared to other stores, which have pretty much no options whatsoever) and also to find that the brides who come in here are treated with respect and courtesy – and if we don't have what they're looking for, the staff here don't sneer in their face. It's a nice change from what I was used to. So I'd encourage brides from Saskatoon and other prairie cities and towns (like Regina, Red Deer, Fort MacMurray) to come here as well. It could very well be worth the trip.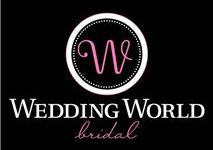 Wedding World Bridal – Edmonton Plus Size Wedding Gowns and Bridesmaid Dresses
With over 20 designers to choose from in Wedding Wear, this could be your one stop shop! Also check out the impressive selection of accessories, veils, hairpieces, birdcage veils, tiaras, dyeable shoes, and more!