Today I'm going to talk about something I knew essentially NOTHING about until I had the privilege to photograph this award ceremony – fish and wildlife in Alberta. Except, not really! Technically, I'm going to talk about learning about things I know nothing about.
AWARDS CEREMONIES WIDEN MY WORLD
The thing is, the very best part of all of the various award ceremonies that I have photographed is that they widen my world in a huge way. You know that feeling where you look out at a crowd full of people and realize that every single person has a life – like yours, but completely different? That feeling actually has a name, it's called "sonder." I revel in this feeling – and there is no part of my work that makes me feel it more than an award ceremony, where people come together to appreciate someone's life and contributions.
GIVING BACK TO THE WORLD
One of my values has always been finding ways to give back to the world, and the gentlemen who received the most recent Order of the Bighorn awards personified a life-long pursuit of that value. These men are stewards of the world we live in. They help protect wildlife and wilderness, they were voices for sustainability – before it was cool. Want to learn more about them? Check out the video at the bottom of the post to hear about their life's work.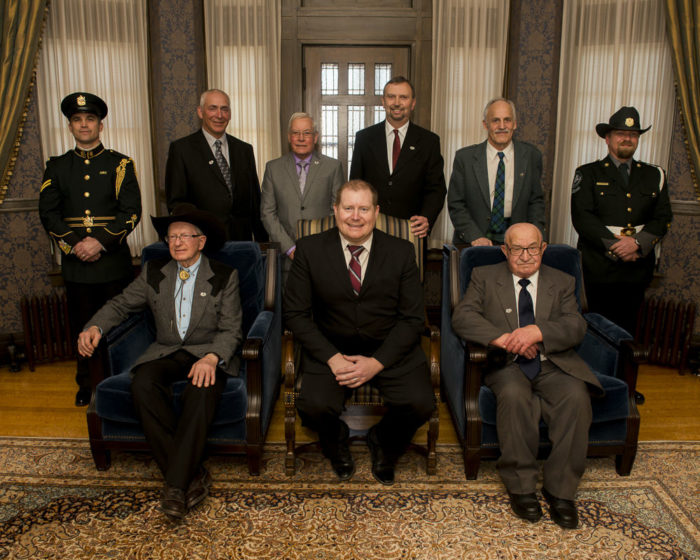 ARE YOU PLANNING A CEREMONY?
Erin had this to say about working alongside me while planning and executing this ceremony:
Thank you so very much for your help at the event!! I felt it was very smooth and a big reason for that was you helping me to know what would be needed when we did our walk-through. […] The inductees were so happy and I know they will be over-joyed when I send out their photos! The Committee was definitely very pleased too! […] There are some incredible pictures to be sure.
If you are planning an awards ceremony, graduation, or retirement party you can count on Twyla to be fully present to produce stunning images that people will look back on for years to come. Find out more about Twyla's specialty of Event photography in Edmonton.
Learn more about the Order of the Bighorn
IS YOUR EVENT A high profile event?
As a photographer specializing in event photography in Edmonton and area, I can help with professional photography for your event! I have shot over a hundred events for individuals, groups, and businesses – including non-profit organizations and special interest groups and I am confident handling myself with celebrities, politicians, videographers, and members of the press in ensuring that you receive excellent photos – all events now come with complimentary 48 hour turnaround.