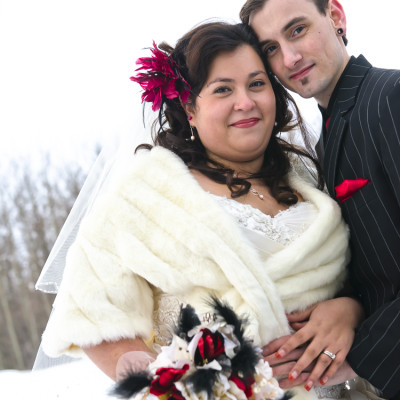 Edmonton Wedding Photography – Gabriella and Bryce
.
all | Edmonton Photographer - Admire Studios | 0 Comments
Ever since meeting Gabriella and Bryce at a coffee shop what seems like actual ages ago now, I was very excited about being a part of their wedding! I had a total blast shooting their Engagement session at the school where they met and fell for each other, and now, years later, I watched them beam at each other as they were married. We were super lucky to have really great weather, warm and a little snowy, though not for formals, which I was just a tiny bit disappointed about – but I did get some lovely sunset rays in! I enjoyed my time at the Gypsy Queen salon, where the girls were done with plenty of time to spare – in fact, Gabriella had planned time for unmitigated disasters into the day, and as there were none, the whole day seemed quite relaxed! I felt like such a klutz when I knocked over a water globe decoration by accident and it shattered and soaked my socks (I had taken my boots off because it's tough to sneak about like a proper photographer in boots that squeak loudly with every step!) so I had to go buy a pair of socks and feel awful for like an hour – though the folks at the salon were really good about it. It's the only thing I've ever broken as a photographer though, so I guess I've done alright considering how many glass decorations I've handled in the past.
The skating rink at Jackie Parker Park provided a lovely backdrop for our formal session. Gabriella was so giggly and silly that it took me a few minutes to get some nice romantic photos of them which I confess were mostly for Bryce's benefit 😉 Most of the time, they were being goofs, which is exactly how I like my couples to be – so happy together they can't stop laughing and smiling.
The food and service at the German Canadian Cultural Centre was great, the staff were super friendly and fun, and the space looked really great decked in crisp red, black, and golden linens. Of course, my wedding colors were red and black so I might be a bit biased! Gabriella's family is Latina, and partly as a result, the dancing was so much fun to watch! The adults spent as much time on the floor as the young crowd, which was wonderful to see! Of course, there were many kinds of dancers present – even the littlest one learning to dance – one of my favourite photos of the evening is the last photo on the page here, from her perspective! =) Enjoy!