Recently as I've just finished two fabulous wedding invitation orders with some great clients, it's brought me back to my early design days! Years ago while living in Saskatoon, SK, I found a fabulous blog by a journalist called "Wedded Diss" and recognized a kindred spirit, despite the fact that I had no wedding prospects at the time. Janet was down-to-earth, complained about the myriad of ridiculous wedding frivolities that I myself was known to frown upon, and she was talking about wanting something different for invitations. Back then I was still looking forward to a career in graphic design, so I dived right in, sent her an email, and offered my design services. I was pleased that Janet accepted my offer, and I went on to work with her and her then fiance, James, at creating a whimsical feast of fancy for the eyes. We spoke at length about the symbols and colors and styles they were looking for in a wedding invitation – and one thing that came up was the concept of interlocking swirls and such. The best part about the process is that Janet catalogued their whole experience on the blog! It's not everyday a professional journalist creates a log of their experience with a wedding vendor, so needless to say, I was very excited!
Janet's Posts about the experience of working with me on her wedding invites, back when my last name was different:
Janet's reaction to my offer
I asked her to look on Google for something she might like. What happened? A catalog of TERRIBLE wedding invitations. Check it out.
"If I were a wedding vendor, I wouldn't want to inflict us on me."
Thus, with hilarious introduction, begins this post about our design meeting. Followed by a diatribe on dress trashing – most of which I totally disagree with, except for the part about just doing things because they're trendy. I say do it because it's ridiculously fun and unique – and because you don't necessarily have to ruin it, either. Also, some dresses get ruined during the course of the wedding day, being made of rather fragile fabrics, making the trashing a no-loss situation… But that's just my two cents on that.
The Final Invitation Compiling Party
When this happened, way back in 2008, believe it or not, I was young and foolish and didn't know a heck of a lot of stuff about the printing side – but now I have some incredibly awesome suppliers who get the job done perfectly every time. My most recent two invitations, which for the sake of the couples I shall not reveal until they have all been seen for certain, have been a blast – and both couples decided to go with programs as well – in fact, one set is a complete set with Save the Date, Invites, Programs, Seating Chart, Printed Favours, and Thank You cards. I've been having a blast designing for their gorgeous royal blue-and-black theme.
Enjoy the slightly off-the-wall, totally unique results: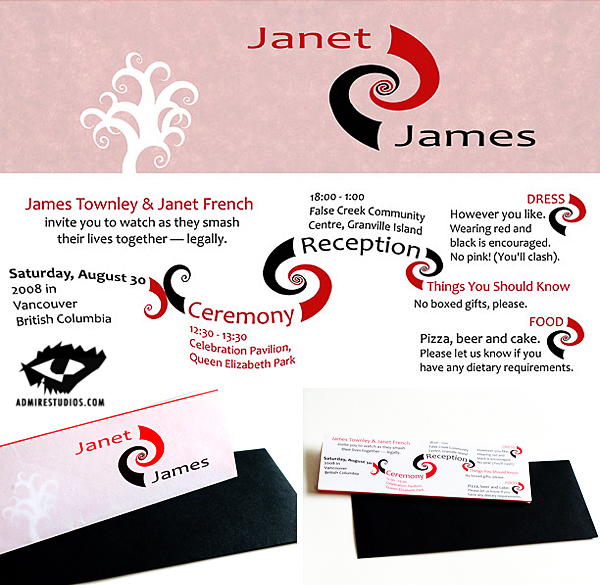 Thanks so much Janet for compiling your blogs about the event! I'd love to work with funky, hip brides just like you.
Check out what Admire Studios has to offer if you need Custom Wedding Invitations – or set the tone for your whole wedding with a full set!