Looking to have a family portrait session that breaks through the stereotypes of ordinary portrait sessions? Try these five tips when working with Admire Studios in making your next family portrait session to help me take your session from Basic to Brilliant!
Pick a Creative Location


I often have clients call in asking where I "usually" take family portraits, but the truth is there are so many incredible options to create something completely unique to your family.
Having a creative location for family portraits can inspire striking family portraits all by itself. Think of places such as a snowy mountaintop in Banff, a cozy cabin by the lake, a desert like the Alberta Badlands, an amusement park, or a canola field in full bloom.
Some couples or families even travel to the Badlands or the wheat and canola fields, and we're lucky in Edmonton that an incredible variety of landscapes are within an hour or two of our beautiful city. The choice depends on your preference for the background or how adventurous you'd like to be. Sometimes, the placement of the sun is a crucial function, too. You want the right amount of light, so you have to choose wisely so you don't end up sunburnt or with harsh shadows. Talk to me about how to choose the right time of day and weather for a family travel shoot and I can help you create stunning photos. Be adventurous with your location, and you will not be disappointed with the results!
Take Advantage of the "Golden Hour"



All photographers worth their weight know about the Golden Hour, the time when light is flattering and makes everything look like a fairy tale landscape!
For many people's taste, they believe that the best time of day to take photographs that will give you unique and beautiful family portraits is this "golden hour." Light flares and soft light are vital factors in capturing such dreamy pictures of families. Make sure you are scheduling the shoot a few hours before sunset to make the most of this hour. It makes everyone look 10% more good looking, I swear!
Ask your photographer what time of day is best to get these golden images – it changes with the seasons with a variance from 3pm to 9pm! Because we're so far north, in wintertime half of the daylight hours are like this, while the sun is close to the horizon nearly all day long. Dawn hours can also provide beautiful golden hour lighting, but most people aren't interested in getting up quite so early. If you're having trouble finding a time during the evenings, however, you can create some magic early in the morning.
Let Me Mix Up the Poses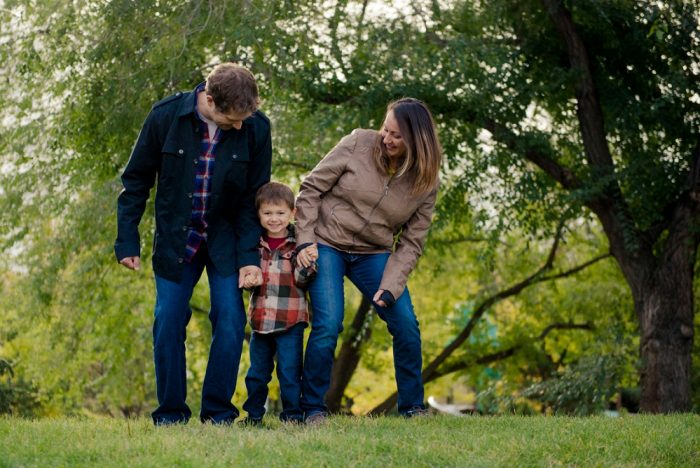 Everyone has seen the typical family portrait with everyone standing in a line and smiling directly at the camera. These may be on your list, but the ones that will stand out for years to come are the candid shots, the laughing shots, in-motion shots, and shots from different angles and poses. That's exactly what I specialize in! There are a thousand and one options for this.
Let Kids Be Kids
To get fun and unique shots, the kids need to feel comfortable for their personalities to shine. Kids getting to express themselves can help with more creative shots and fewer tantrums. If your child wants to wear their lucky tutu or bring their favorite stuffed animal, don't fight it. Be careful not to be too critical of your kids, especially kids in their early teens. They can be extremely sensitive about their appearance. Allow the photographer to direct the scene and don't keep fixing stray hairs, it can be really stressful for a kid to feel like they don't look good enough for you – which whether or not you feel that way might be what they take out of your well-meaning directions.
Do your kids like sports? Are they interested in dressing up fancy? Do they have a favourite toy they take with them everywhere? Think about these things when planning your session, and don't try to write them out – instead, make them part of your session.
Use Props to Tell a Story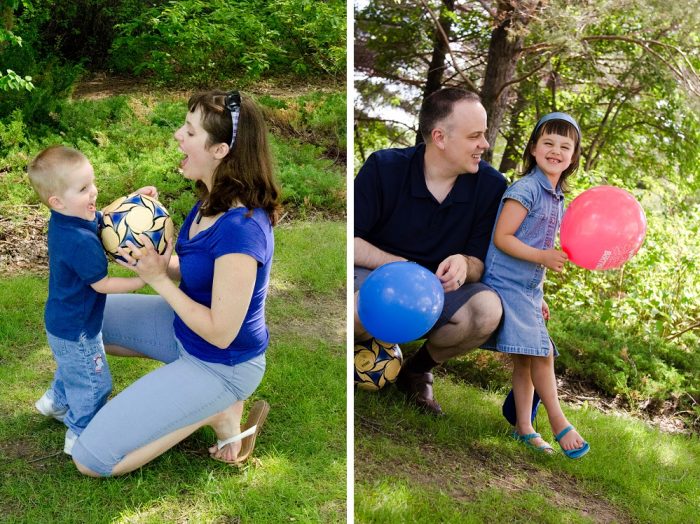 Besides your kids bringing items that might make them comfortable, some families feel that its essential to bring other props for the session. Think of something to sit on, a bike, your beloved family car, and especially your family pet! Taking a photography backpack to carry small props and equipment can help make the day go smoothly. Taking the time to prepare a few accessories to tell a story will create a memorable experience and photograph.
Keeping these five ideas in mind will provide opportunities to capture the shot that will make the entire experience worth it. Remember to embrace being creative and enjoy the day capturing special memories with your family.