One question I am commonly asked as a professional photographer is what should be worn or brought to a family portrait session, how makeup should be done, and whether people should bring props. After answering all these questions individually for ages, I found some other photographers offering some great visual aids for various more specific dress codes, and I discovered Polyvore, an amazing "style editor" that has allowed me to easily (at least comparatively easily) put together a one-stop-shop for addressing the issue of what people should wear to a family session. I hope this will be a resource for families, couples, and photographers in choosing how to prepare for photographs that will last a lifetime.
Of course, there's a caveat to this – photographers don't all have the same opinions on these things. I talked to another photographer once who said he thought photos turned out badly when people wore "bright colors" in general, which I think is crazy. So you're not going to find a universal answer – but this is my take.
Okay, let's start simple. The first question in my series:
What should we bring and wear to a Family Session?
This breaks down into four areas, level of dress, what to avoid, and what to choose in the end for clothes and props. I'll try to cover each of these in this post, and look for more ideas about different sessions coming up! These rules also apply quite well for dressing for family photos for a wedding, so keep that in mind.
What level of dress should we be looking at?
In terms of dress preparation, consider what level of dress you want – semi-casual, semi-formal, or your family's "personal fashion" styles works well. It's important that everyone in the picture is conforming to a level of dress – someone in jeans and sneakers won't work beside someone in heels and a long gown, and vice versa. Co-ordinate with your family or group about this. Most people will choose a casual look, and some people will want a semi-formal look. Here's some examples of good style matching over the spectrum.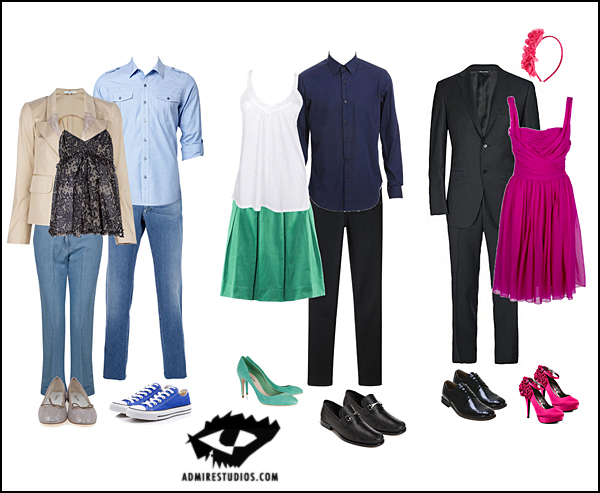 What about in Winter or at Christmas for Outdoor photos?
An outdoor location is a great option even in winter if you have no small children in your family and the weather looks like it will be mild. It may be much easier and less stressful to accomplish and look better, than indoor portraits. Also, it's my job to ensure that everyone's faces are visible, and I pay very close attention to detail in shots like that, so don't worry too much about bundling up! Here's a few ideas about how to dress: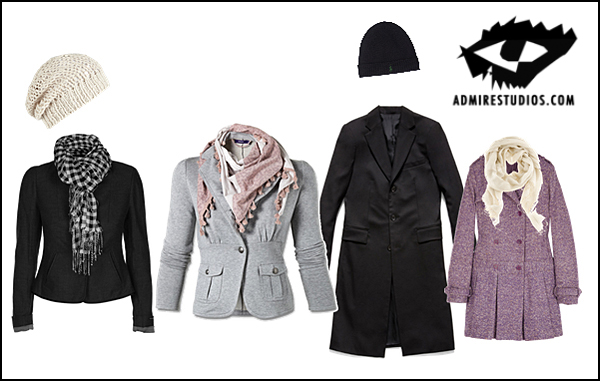 The best idea for this is to have everyone wear either neutral colors like black, brown, grey, or beige, or a solid color jacket combined with a colorful scarf . Here's a great example of a large group photo session I took last Christmas using this kind of color scheme: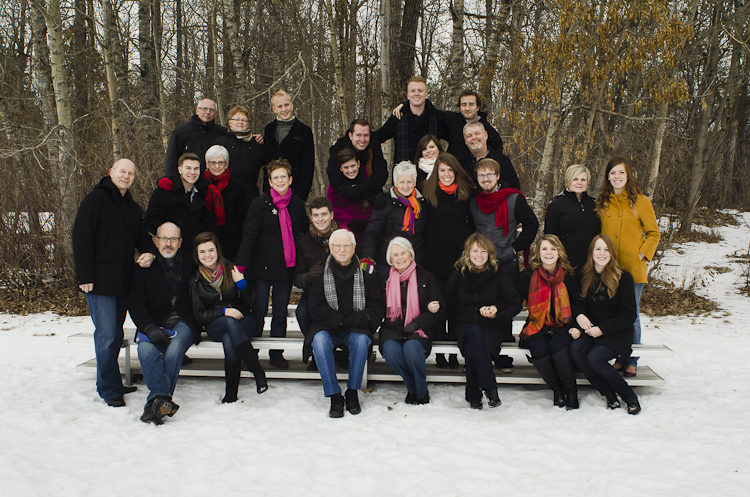 What shouldn't we wear to a Family Session?
Here's some extreme examples for individual people:
Top Row, Left to Right: Yellow, Neon Colors, Large Print Patterns, Splotchy Denim, Stripes, Shiny Clothes, Trendy Items that go out of date quickly
Bottom Row, Left to Right: Anything with Text and Logos, Flimsy items that might show through, Shirts that are too long, Skirts and Shorts that are too short, Ripped Jeans, Wrinkled and Easily Wrinkled things, pants or skirts with leg-side pockets or tassels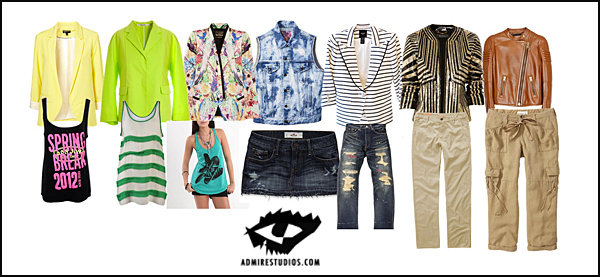 More things to avoid:
Clothing with bold or large print patterns (hawaiian shirts, etc) or people wearing different patterns
Clothing/Hairdo that is especially "trendy" and may look out of date later (i.e., every photograph from the big hair era)
Logos, brand names, any writing on T-shirts – often a problem for guys, don't do it!
Anything that doesn't really fit – bulky, too tight, shirts that aren't quite long enough, all these can make for difficult photos
Badly clashing colors – one person wearing light blue and another wearing a dark red, for example
Saturated, bright yellows don't look good for most photos. (I'll admit I don't like yellow to begin with, but I swear it's true!)
Clothing that only partially exposes a tattoo – fully exposed is fine, though.
Stripes are Evil
I should definitely address one issue in particular: Stripes. Stripes in photos are evil. Stripes in clothing, particularly men's and boy's clothing, are ubiquitous. I think my point will come across somewhat just from showing you these images. I dare you to look at them for more than ten seconds without desperately wanting to look away.
On the left: Stripe types that should NEVER be worn to a photo session.
On the right: Stripe types that can be worn by ONE person in a photo session.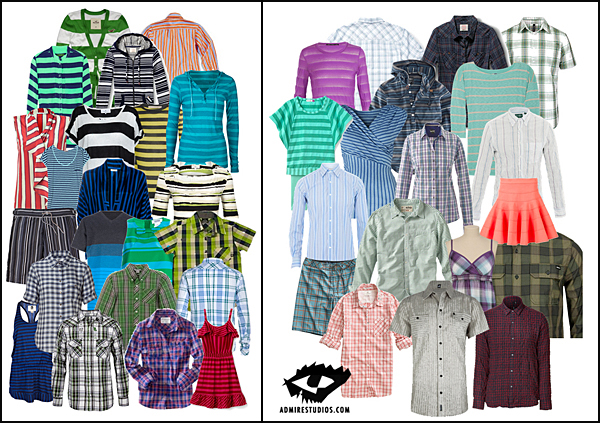 If you're asking what the difference is between the photos on the left and on the right, I can explain.
Stripes that are thick are bad. Stripes that are thin and blend in together are okay.
Stripes that are very contrasting – i.e., are different colors – are bad. Stripes that are very near in color are usually okay.
Plaids and Checkered Patterns are sometimes better than stripes, but can also be bad. Consider them carefully with the other stripe rules.
See how individual shirts on the right are probably not too bad for photos, but they don't work together at all? Only one person can break the no stripes rule – and with families, this is usually going to be the Dad, Teen Son, or Young Boy. Be careful!
Okay, we've covered what NOT to do. What about what to do?
What should we each wear to a Family Session:
Mom, Dad, the kids old and young?
Here's a few ideas for everyone in the photo.
Mom and Dad

Ladies, be pretty by being yourself! Choose flattering blouses and skirts in colors or neutrals, and consider your shoes will be in some of the photos and you'll have to walk distances in them, often on grass! Make sure that your clothes fit and you don't need to tug on them constantly.
Guys, dress to match Mom's level of dress, and if you're lost, get help.  As a rule, if you're doing casual or semi-formal, jackets over jeans is a good look for most.
Girls, follow the advice I gave Mom, and if you've got flair, show it! Consider your shoes will be in some of the photos and you'll have to walk in them. Make sure that your clothes fit and you don't need to tug on them constantly. Guys, dress to match Dad's level of dress.
Mom, this is your chance to dress up your kids for posterity! Make it cute, make it reflect your kids' personality, and consider adding fun props like sunglasses for boys and hair accessories for girls. If they have a sports jersey or anything special, bring that too!With babies, the most important thing for clothing is that it fits well, and doesn't bunch up when they're in a seated position.
Final Notes
In general, just make sure what you wear is something comfy that you don't feel you have to pull on all the time! Remember that this is going to be a lasting shoot, so don't let anyone wear something you don't ever want to see again! Don't panic, and talk to me if you have any questions about what to wear or what not to wear.
Things to consider:
It is not necessary for all clothes to match, but they should make sense together

Try to put little people in patterns, while adults wear neutral black/brown/white/beige clothing

Women should wear natural-looking makeup, or be bold and try photos without it!

Men should consider that their facial hair may go down in history… This can be a good or bad thing, depending!

Your shoes and socks will appear in some of the photos. Match or mismatch as desired.
Some people like to color-match, but that's not necessary and can sometimes look a little outdated.
Having everyone wear jeans or black/brown/white or tan pants is one way to co-ordinate without looking weird.

Colorful jewelery, scarves and accessories are a great way to personalize your photos
What else could we bring to make our photos unique?
Cute props can make a great photo. Some people have brought hats, umbrellas, sports jerseys, crates to sit on, and antique chairs to sessions, see if you can think of something fun – but don't worry if you can't! Bring things to tell a story, or just to look pretty. Here's some ideas:
Things to Sit On
Make it simple!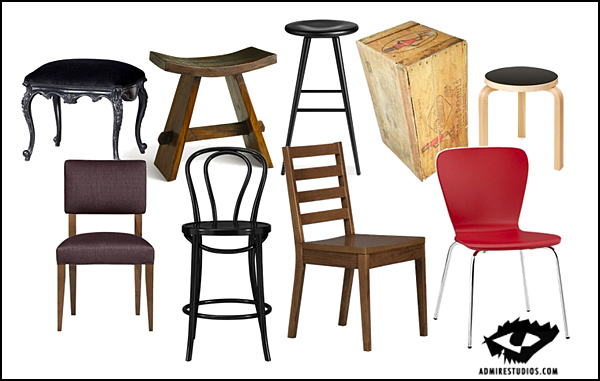 Here's a great example of one of my family sessions where they brought crates and dressed in great style: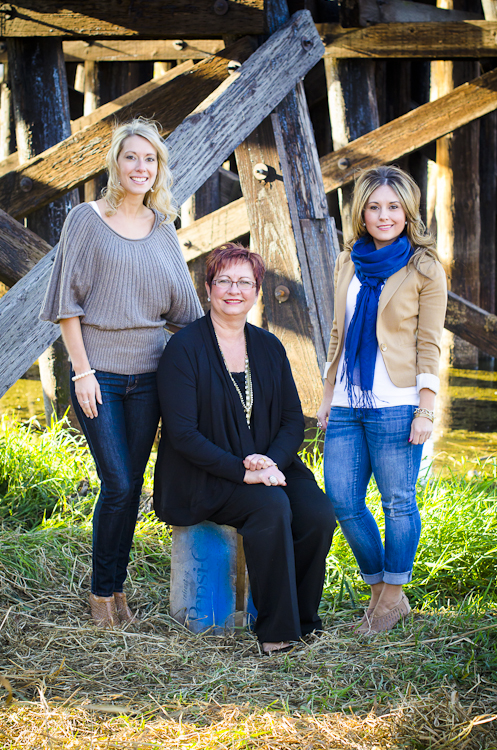 Props are especially fun with young kids, like this awesome family from Saskatoon proved with their family photo session: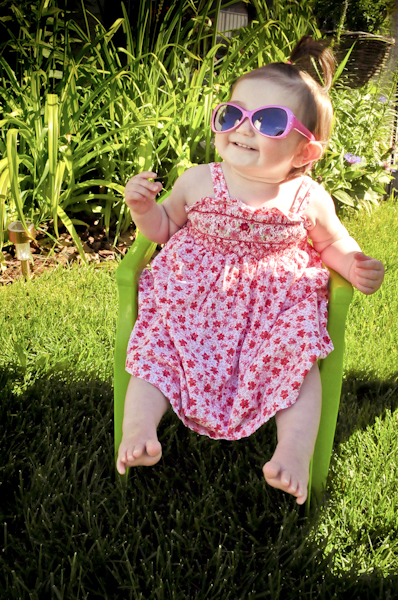 I hope this guide will be a useful resource for people looking for some concrete ideas on how to dress for their family photos! I'd love to hear your comments, so let me know what you think, what great ideas you've come across, and more!